Multi-loop Big Wall Gear Sling
Item Details
|
Reviews
(
3
)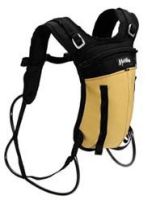 Manufacturer:
Metolius



This item may be available at:
Description
Double-sided big-wall gear sling with insulated storage compartment for hydration system or gear Ergonomic, laminated, die-cut pad with Ballistics outer and soft, non-absorbent Conlure™ lining Fully adjustable via custom aluminum buckles Height-adjustable sternum strap External daisy chains on storage pocket for additional carrying capacity Daisy-style speed loops for quick access to frequently used items Top-of-shoulder clip-in points for hanging the rack at belays Not intended for use as a chest harness The multi-loop version of the Big Wall Gear Sling allows for more organization of gear The tubing covered loops are non-structural and are for gear racking only 12 oz.  (340 g) Main Loop Strength: 1000 lbf  (4.4 kN)
3 Reviews
metolius big wall gear sling
Review by: Haystacker, 2009-06-05
I have only been trad leading a short time I climb in calif. where it gets pretty warm so it is nice to have water on the lead and YES a bladder will fit I bought the platypus 1 liter it fits perfect (by itself,eat before you climb dummy) as for the racking part I am 6 feet tall and i can reach all the loops just fine it is very comforting to have everything organized,I have a hard enough time climbing i do not need to spend any time looking for gear on a single loop so yes i do highly recommend this sling
Review
Review by: sandstone, 2005-03-31
This rack has its benefits, but I think it also has its problems. I like the fact it can hold a hydration bladder and a little food. I added a stretchy cord to the back of it, so it can also carry a rolled-up windbreaker when needed. I like the multi-loop feature (I had added multi-loops to my old shoulder gear slings before commercial multi-loop versions were available). This rack is comfortable on the shoulders.

What I don't like about the Metolius rack is how it positions gear. Stuff on the rear loop is very hard for me to reach and get on/off the rack.

With an old syle shoulder sling rack, if you need to get something off the back of the rack you can spin the whole sling around to bring the back gear up front where you can work with it. You can't do that with the Metolius due to how it's integrated with a small pack.

Since the rear loop is so hard to reach I inevitably end up cramming too much gear on the remaining front loops, making it hard to get gear on/off the rack efficiently. I've adjusted the thing as much as possible, but it just doesn't seem to position the gear where it needs to be. I'm 6ft tall, average build, and I know how to rack gear -- so the thing should work well, but it just doesn't.

The Metolius has some nice features, and it's well made, but I think it falls somewhat short on the basic function of being a good gear rack (especially if you're carrying a lot of gear, like on long aid pitches).

I've found it to be more useful as a rack/micro-pack for multi-pitch free climbs. In that scenario I'm carrying less gear on the rack, and the micro-pack is a nice place to stash a little water and food.
Review
Review by: tim, 2004-04-19
It's a gear sling. If you don't have to wear a gear sling, don't! But if you do, and if you aren't going to be taking falls where you need a structurally sound chest harness, this is about as nice a wall rack as you can get. The pouch for a hydration bladder is about the right size for a liter of liquid, and the overall design is well thought out. At the end of the day, though, the one thing better than this sling is none at all.