Multi-loop Double-D Gear Sling
Item Details
|
Reviews
(
1
)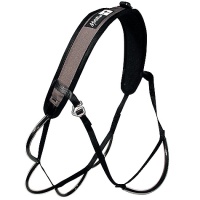 Manufacturer:
Metolius



This item may be available at:
Description
The Metolius Double D Multi Loop Gear Sling is absolutely necessary for anyone trying to do a wall, long gear routes or aid climbing. This is is the double sided version of the multi loop gear sling with tubing covered loops and the Double D attachment for extra gear, cordalettes and racking biners. These are non structural and for gear racking only. Please do not attach ropes or anchors to your gear sling, it will not hold severe weight.Great for keeping your gear and anchor systems organized and from sliding into one big, heavy mass when on roofs or steep rock.
1 Review
Review
Review by: rockmaninoff, 2004-05-12
I bought the Double-D sling for multi-pitch trad climbing. It does a great job of organizing cams, hexes, and nuts on the multi-loop side. I use the single-loop side for free biners, nut tool, and draws. The single loop can be removed to carry less gear. It may be a good idea to rack big pieces of pro in front and small in back on chimney routes.