GyPSI 406 Personal Locator Beacon
Item Details
|
Reviews
(
0
)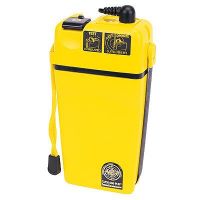 Manufacturer:
ACR



This item may be available at:
Description
Take the "Search" out of "Search and Rescue" with the GyPSI 406 Personal Locator Beacon (PLB) by ACR Electronics. It utilizes a GPS interface to provide rescuers with Latitude and Longitude coordinates to reduce rescue time in an emergency.
Features:
Recessed, waterproof GPS/programming interface (NMEA 0183) transmits GPS data for an even faster response
Small and lightweight, this PLB sends out a distress signal to your nearest local rescue services when it's activated
PLB (Personal Locater Beacon) technology transmits signals that are monitored by NOAA (National Oceanic and Atmospheric Administration) and AFRCC (Air Force Rescue Coordination Center)
Each unit contains and transmits a 15-digit Unique Identifying Number (UIN) which is picked up by satellites and provides rescuers with your name, address and other pertinent information
Transmits two signals: 406 MHz via COSPAS-SARSAT satellite system and on 121.5 MHz (SAR homing frequency)
Used in conjunction with a GPS, the 406 MHz signal allows rescuers to locate your position within a 100-meter radius, while the 121.5 MHz signal allows rescuers to home in to pinpoint your position
Features a three-position switch for ease of use
Three LEDs flashing indicates unit is "ON", Yellow LED flashing indicates test sequence in process, steady green LED indicates unit has passed full functional test
Flat, stainless steel antenna wraps compactly around bottom case for easy stowage and is easily positioned when needed
Functional test switch for battery power and 406 MHz transmission
The unit floats to avoid loss if dropped in water and waterproof to 3.3 feet
Case and instruction label are oil, water and UV resistant
Constructed with non-corroding components
Includes a wrist lanyard
Can be stored between -58° and +158° F
Does not interface with a GPS
Learn more about PLB's
Specifications:
Size: 1.9 x 6.5 x 3.8 inches
Weight: 17.6 ounces
Battery Type: Lithium -5 1/2 year replacement life (11-year useful life)
Material: Fiber-reinforced polycarbonate
Deployment: Manual
Operation: Lift switch up, slide right, push forward breaking tab
Accessories: RapidDitch-P carrying bag (P/N 2267)
Frequency: 406.028 MHz, 121.5 MHz
Certification: Approved by COSPAS-SARSAT, FCC Approved
Radiating Power: 5 watts ± 2dB (406.025 MHz) 50 mW ± 3dB (121.5 MHz)
Operational Life: In excess of 24 hours @ -40°C (-40°F), longer in higher ambient temperature
Manufactured by ACR Electronics, Inc.