Contact Strap Crampons with Antibott Device
Item Details
|
Reviews
(
1
)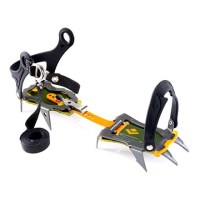 Description
These versatile, lightweight Black Diamond Contact crampons offer reliable, secure fit for general mountaineering and winter hiking. Optimized for walking comfort, these strap-on crampons works well on boots that dont have front-toe welts or full-length shanks in their soles. Main points are positioned for an improved walking gait 10-point design is ideal for general mountaineering with occasional, mild technical climbing. One-size-fits-all design utilizes a center strap that adjusts to accommodate most adult boot sizes U.S. mens sizes 4-12. Lightweight and compact for fast travel and easy storage adjustable without tools. Dual-density nylon toe and heel straps offer great fit and flexibility, and can be cinched down to hold the crampons securely. Included ABS plates are extremely durable dual-density material sheds snow to prevent it balling up and improve grip and safety.
1 Review
BD Contact Strap Crampon
Review by: stoehnercd, 2008-11-14
As a general mountaineering crampon this crampon out performs many others in its class, however, it has some issues.
I wear a Vasque double boot of which the crampon likes to argue with me to go onto. More than once I have nearly lost my crampon trying to bribe it into work that day. Once on the fit is snug if you get it on just right otherwise its like getting a motor vehicles representative to snap your license at lunch time.
The strap is a bit annoying and I find in the way.
Now the points are strong, durable, and I find stay remarkably sharp on typical glacier travel. The frontpoints can be problematic with good purchase on steep grade ice/snow mixes because they are a bit short.
I would not have any reserves buying another set of these because after a nice cold, angry, windy night stuck in a tent with my partner the unfolding drama of putting on the crampons is nice comic relief.