Dart Lever Lock
Item Details
|
Reviews
(
2
)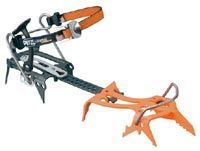 Manufacturer:
Petzl



This item may be available at:
Description
High-performance front point: offset for greater precision, notched with a hooking point. 2nd row of teeth inclined forward for stabilized position. Hooking possibilities: forward lateral points inclined toward the rear to allow pulling, heel spur available as an option. Freedom and efficiency of movement thanks to the light weight of the crampons (under 840 g for a pair). Precise placement and feel due to the horizontal structure: the foot is closer to the ice. Precision interface with the boot: 2 adjustment positions for the front wire to adhere to soles of any thickness, the wire can be offset to adapt to asymmetric boots, adjustment is easy (no tools) and precise (to the half-size). Possible to screw the crampon onto the boot (lower weight and higher precision). Front part is replaceable when the point is worn. Set up with the SIDELOCK binding, for boots with front and rear sole overlaps (wire at front and rear). Rapid-fastening lateral binding system, avoiding the encumbrance of a heel-bail. Rear ANTISNOW available as an option,to avoid the build-up of snow. Technical specifications : Mono-point only. Materials : high performance cold forged and tempered steel, except hot-forged single point (more precise distribution of material for extreme resistance to deformation). Highly compact for easy storage. Weight : 2 x 408 g = 816 g. Sizes: 38 to 44 (M bar, fitted as standard) and 42 to 49 (L bar, optional). CE - UIAA
2 Reviews
good stuff
Review by: brent_e, 2007-01-15
I bought these before the 06/07 ice season and used them drytooling before I got on ice. They worked well drytooling, but you REALLY have to strap them tight to get the heel to stay locked down....on my superalpinistas it was this way, anyhow. I finally got to try them on ice and they are terrific. They feel really solid frontpointing. The sidelock system is finicky and take some time to get adjusted, but aside from all these things they climb ice so well I have to give them a 5/5. If you can, cover up the heel spur with a piece of tape/silicone hose if you aren't using them on ice as they catch the rope, slings, your butt, etc.


Review
Review by: jimdavis, 2005-12-11
Good crampons for technical climbing. I bought these because I wanted a heel spur for climbing pillars, and because it has a lot of rear-ward pointing points for pulling on stuff. Also, it's the only crampon in the catagory that fits my size 14 boots. The sidelock system works very well, much more secure for heel hooking that lever type heel bails. They're nice and light weight, come plenty sharp, and give you some options for offsetting the bails (to point the frontpoint inwards, neutral, or outwards). They climbed rock really well, still waiting to test them fully on ice. If you don't want to climb vertical pillars and mixed stuff, the heel spur will probably just be a pain in the ass (hopefully not literally). But bottom line, they're a teriffic crampon for purely technical ice and mixed climbing. And all the Charlet front and back pieces can be interchanged. You can put dual front points on, heel spur or not...etc...you just have to buy the other parts.