Dartwin Crampon
Item Details
|
Reviews
(
1
)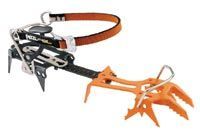 Manufacturer:
Petzl



This item may be available at:
Description
High-performance front points: offset for greater precision, notched with a hooking point. 2nd row of teeth inclined forward for stabilized position. Hooking possibilities: forward lateral points inclined toward the rear to allow pulling, heel spur available as an option. Freedom and efficiency of movement thanks to the light weight of the crampons (under 860 g for a pair). Precise placement and feel due to the horizontal structure: the foot is closer to the ice. Precision interface with the boot: 2 adjustment positions for the front wire to adhere to soles of any thickness, the wire can be offset to adapt to asymmetric boots, adjustment is easy (no tools) and precise (to the half-size). Possible to screw the crampon onto the boot (lower weight and higher precision). Front part is replaceable when the points are worn. Set up with the SIDELOCK binding, for boots with front and rear sole overlaps (wire at front and rear). Rapid-fastening lateral binding system, avoiding the encumbrance of a heel-bail. Rear ANTISNOW available as an option,to avoid the build-up of snow. Technical specifications : Materials : high performance cold forged and tempered steel, except hot-forged front points (more precise distribution of material for extreme resistance to deformation). Highly compact for easy storage. Weight : 2 x 430 g = 860 g. Sizes: 33 to 44 (M bar, fitted as standard) and 38 to 49 (L bar, optional). CE - UIAA
1 Review
Petzl Dartwin Rocks!
Review by: retro, 2009-02-05
I began my career on ice with a lime yellow pair of Koflach Vario Extremes and a used pair of Messner Scissors...so forgive me if I date myself, but in the years since, I have seen a lot of gear come and go. I have gone to monos, back to dual...then back to monos as New England ice can keep you guessing and scratching for any method or new piece of gear that will stack the odds in your favor (or at least a little bit more)...and I hadn't found that elusive piece of gear until now that is!

I have been climbing on the Petzl Darts (mono configuration) for two seasons now and have to say that I loved the performance on steep waterfall ice and even on some of the lower angle routes that I typically will pull the old alpine "poons" for; but the place that the darts really shined was on the mixed terrain. I was convinced that I had finally found the ultimate mate for my feet...that is until I ordered a pair of the dartwin replacement points as a "back-up" for my monos.

Just for "kicks", I decided to throw the duos on after being chastized by a couple of partners claiming that I was able to climb a certain thin, steep curtain due to the fact that I was wearing monos and could gently place the points of the monos in my pick holes! Unfair Advantage??? What??? Well to prove a point, I threw the duals on and headed back up to the climb in question to try my hand at it...and to my amazement, the feedback and stability that I got from the duals was an unexpected surprise. They were remarkably precise, light on the feet, and provided a platform that I had been doing without for several seasons. I could finally drop the heels a bit and take a shake with a bit more confidence than with the monos. They displaced less ice than my older M-10's and Grivel Rambocomps...and felt more solid than any crampon I had used to date.

I did skitch a few times after dropping the knee a bit which I really liked about the monos...duals will lever themselves out, but that was pilot error and no fault of the crampons. I had stayed clear of these for a long time because I was afraid that I would burn through the points in a season and the replacements are $130 or so...but I have to tell you that after using them consistently for about two months now....they are holding up remarkably well and show typical wear and tear, but the points are still reasonably sharp and I can see getting a couple more seasons out of them at least!

If you are looking for a lightweight, precise pair of poons that will take your game to the next level the Petzl Dartwin could be the answer you are looking for.

*Note: The crampons tested were not the sidelock version as I am not a fan of that system. I used the leverlock and have had no problems with them. They adjust easily without tools and can be modified in the field in no time...another feather in the cap for this crampon model.