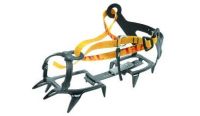 Manufacturer:
Grivel



This item may be available at:
Description
A lightweight, universal crampon. G10 is designed to meet the classical demands of general mountaineering. It is perfect for ski touring, trekking, or for women and children (whose small boots don't require many points underneath them). The crampons are fully adjustable by hand, without tools and one size fits all. G10 folds easily for transportation. The G10 crampon is delivered with the Antibott included.
3 Reviews
Review
Review by: physics, 2006-07-29
This probably the best general use crampon I have seen. They are light, well-made, and work worrielessly on glaciers and hard snow. I have used them with boots (Trangos) and light tennis shoes both without any problems. These are NOT for ice climbing nor for anything that requires moderate front pointing. The G-10s work great for general glacier travel and snow field crossing/climbing. They come with antibots and at the price are a great deal.
Review
Review by: cryder, 2004-08-11
These are my rock eaters. I have g-12's for technical ice, but these are favorites for when the prospect of an intermitent rock / compact snow route in non winter conditions and I want to use a light hiker for speed. Very durable. Good price. Wish the straps were black, as the yellow ones get dirty quickly.
Review
Review by: scubasnyder, 2004-04-07
I got these for trekking originally, but i found myself using them a lot more, ive had them for 3 years, there great, never tried to ice climb with them but there great on ice, use them for ice fishing too.