G12 New Classic Crampon Package
Item Details
|
Reviews
(
2
)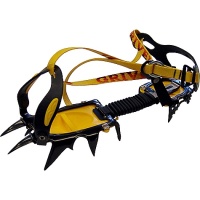 Manufacturer:
Grivel



This item may be available at:
Description
Grivel G12 New Classic Crampon Package Spring 2009 The G-12 Crampon by Grivel is a classic 12-point crampon designed for general mountaineering, alpinism, mixed ice and rock climbing, and moderate waterfall routes. Despite the modern climbers tendency to use crampons with more technical capacity and weight than necessary it should be remembered that virtually every hardalpine route in Alaska or Chamonix may be done with the G-12. The horizontal front points provide better support in hard snow than vertically oriented points so the G-12 is especially suited to maritime climates where rime ice rather than water ice is expected. Three different types of bindings are available to adapt to virtually any type of footwear. Specifications: Weight: 1018-1134 gm Materials: ChroMoly Steel Construction: 3D relief stamped Points: 12 Binding: Cramp-O-Matic Weight: 1068 gm Binding: New Matic Weight: 1054 gm Binding: New Classic Weight: 1018 gm Binding: Cramp-O-Matic XL Weight: 1134 Binding: New Matic XL Weight: 1112
2 Reviews
G12 Nu Matics
Review by: go_dyno, 2007-02-15
I use my on LS Lhotses boots and have used them on vertical ice mostly and some moderate alpine. I love them. They are now back ups for my G14s.
Review
Review by: crag, 2006-03-10
I have the Crampomatic version and have days at a time in them (sans sleeping) with zero complaints. Currently I use them with my old Koflachs with no concern they'll fall off. No problems with the toe bail and little issue with balling under foot, but bot plates would be nice.