G 10 Light
Item Details
|
Reviews
(
1
)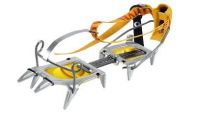 Manufacturer:
Grivel



This item may be available at:
Description
This is Grivel's answer to market demand for crampons manufactured entirely from light alloy materials. G10L is made for ski touring, ski mountaineering competition, classical mountaineering routes and for high altitude or distant expeditions where weight is the determining factor. The crampons are fully adjustable by hand, without tools and one size fits all. The G10L crampon is delivered with the Antibott included.
1 Review
Review
Review by: jaybird2, 2005-02-17
For ski mountaineering in the lower 48, these are impossible to beat. I don't know if I agree for their use in expedition scenarios. The words "distant" and "high altitude" (used in the product description) seem synonmous with reliability under drastic conditions to me. A light alloy is anything but that. These crampons are very suseptible to point breakage. I would recommend them above all others for steep/firm snow and maybe easy alpine ice. But if you come down hard on some rock you will be snapping off points sooner or later. If the product description left it a "light" and "ski mountaineering", they would be 5 all the way.