M10 LLF Modular Crampon
Item Details
|
Reviews
(
1
)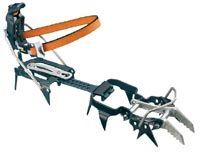 Manufacturer:
Petzl



This item may be available at:
Description
High-performance front points: notched with hooking points. 2nd row of teeth inclined forward for stabilized position. Can adapt to suit different conditions or climbing styles: supplied in double-point version, they can be converted to single-point crampons (spanner and braces supplied), multiple adjustment of the front points: inclination, position (symmetrical or asymmetrical in single or double point version) and length. Stability of placements: first row of forward lateral points are inclined toward the rear for hooking, small teeth distributed over the forward part to stabilize the foot, lateral points inclined outwards for edge placements. Precision interface with the boot: 3 adjustment positions of the wire to move the boot forward or backward on the crampon, the wire can be offset to adapt to asymmetric boots, adjustment is easy (no tools) and precise (to the half-size) thanks to the double row of offset holes. Strong: front points in forged steel, vertical structure, protecting the adjustment screws. Front points can be replaced when worn out. Set up with the LEVERLOCK binding, for boots with rear sole overlaps. Heel bail with micrometric adjustment and wide adjustment range at the rear. ANTISNOW available as an option, to avoid the build-up of snow. Technical specifications : Dual-point or mono-point. Sizes: 34 to 45 (M bar, fitted as standard) and 40 to 50 (L bar, optional). Weight : 2 x 532 g = 1064 g. CE - UIAA
1 Review
Review
Review by: kimgraves, 2006-10-02
I've used these for one season and really liked them. I'm a beginner, but found these easy to use right out of the box - they were sharp not like Grivel products. I've used them with duel and mono front points. Easy to change out with included tools. I use these for technical water ice, not for mountaineering.