Rambocomp Evo 2
Item Details
|
Reviews
(
4
)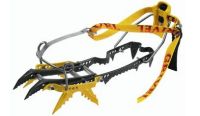 Manufacturer:
Grivel



This item may be available at:
Description
New version of the competition crampon, a world first with rear oriented points, for added grip on ice. The curved shape of the rear fits modern ice climbing boots perfectly and the base adjusts automatically to suit totally flat or slightly curved soles. The two front points, hot forged for the best quality possible, have been redesigned to be used in dual or mono point mode: with specific lengths and angles for both possibilities. The necessary transformation parts are included in the pack. No more need to ask: mono or dual? Both requirements can be satisfied in this model! The crampons are delivered with the Antibott included.
4 Reviews
Rambocomp Evo 2
Review by: vdotmatrix, 2007-02-20
i have used these brand new this season but i have configured in monopoint. I LOVE THESE CRAMPONS. if the rambos 4's are an improvement to these i'd be amazed. these work so well and i wouln't know the difference just climbing nei-3 and 4's.
Review
Review by: jotzfo, 2006-07-26
It gave me confidence eventhough I just started climbing ice. A reall joy to use.
Review
Review by: forkliftdaddy, 2005-05-13
I use an older model RamboComp for steep ice. They're great for it, unless you have to lug them very far. They are heavy compared to some other models. Rea-facing points are nice for hooking.
Review
Review by: adeptus, 2005-05-01
Really good crampons for hard compact ice and mixed climbing. With the recent banning of heel spurs the rear-facing point can be a good substitute for hooking features on the rock.
Should be used in mono configuration, because it will last longer and be more precise and if the ice is to bad for monos you should switch to horisontal frontpoints anyway. All i all a top crampon for waterice and mixed climbing.