Sarken Leverlock Crampons
Item Details
|
Reviews
(
3
)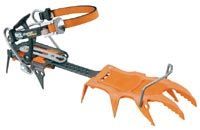 Manufacturer:
Petzl



This item may be available at:
Description
Front pointing: 2 front points, toothed and thin-section for optimal penetration on ice, fitted under flat points for good bearing power on snow and soft ice (gullies), next 2 points are notched and inclined forward for stability. Walking on 10 points: lateral points are separated to respect the asymmetry of the boot and to limit the "rail" effect which increases the risk of slipping, supplied with ANTISNOW to prevent snow build-up. Lightweight: less than 900 g. Adjustment is easy (no tools) and precise (to the half-size). Available with 3 types of binding systems: SIDELOCK, for boots with front and rear sole overlaps (wire at front and rear); rapid-fastening lateral binding system, avoiding the encumbrance of a heel-bail. SPIRLOCK, for boots with a rear sole overlap (wire at the rear, flexible binding at the front). Strap fastening system, avoiding the encumbrance of a heel-bail, LEVERLOCK, for boots with a rear sole overlap. Heel bail with micrometric adjustment and wide adjustment range at the rear. Technical specifications : Sizes: 36 to 46 (M bar, fitted as standard) and 41 to 50 (L bar, optional). Binding Ref. # Weight SIDELOCK T10 SL 2 x 428 g + ANTISNOW (56 g) = 912 g SPIRLOCK T10 SPL 2 x 432 g + ANTISNOW (56 g) = 920 g LEVERLOCK T10 LL 2 x 460 g + ANTISNOW (56 g) = 976 g CE - UIAA
3 Reviews
excellent
Review by: brent_e, 2009-01-15
I have the newest version (post recall). these are great and versatile crampons. I have grown to like the sidelock having used it on the dart - no problems! Antiballing plates work well. nice frontpoint configuration.
Review
Review by: toml, 2005-05-13
BTW, these are the Charlet Moser Sarken crampon (misspelled on main page). Who would have thought that Petzl (I assume they drove the research) could have made such a collection of improvements in the humble crampon? I have a pair of perfectly good 12-point crampons which I no longer use because the Sarkens are that much better. I have climbed up to NEI 5- in them as well as snow plods. To my surprise, they climb steep waterfall ice quite well (I am not a New Generation Mixed climber though). When it's supercold out, it's nice to be able to put them on and take them off in a jiffy.
Pros: T-shaped front teeth hold well in snow AND ice, dramatically improved bindings - simpler and more effective and faster binding, integrated anti-balling plates, color coding (sort of), weight savings.
Cons: none, except price, but it's more than worth the extra. I have heard that people had problems with the anti-balling systems cracking or not working, but I didn't; it may have been a problem with the earliest batches.
Note: I have the 'spirlock' binding system, but the other alternatives look almost as good. Things like making the crampon strap of a better material are common throughout the new binding systems!
Review
Review by: ahenman, 2005-02-14
Two thumbs way up. Climb technical ice like there is no tomorrow. I am very happy with this purchase. They are light, easy to adjust and once you get the hang of the sidelock they are quick and easy to get on and off. Great value.