Terminator
Item Details
|
Reviews
(
2
)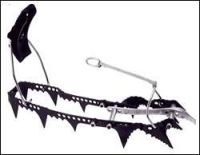 Manufacturer:
DMM



This item may be available at:
Description
The Terminator's modular system allows you to have traditional dual point. • One size fits all. • Simple and secure installation. • Snow shedding latex rubber.
2 Reviews
terminator
Review by: time2clmb, 2007-05-22
These things are solid. I have mine in the dual point offset configuration. I have not tried the mixed points yet (5 years later). Very secure feel to them. Good for steep ice. Don't even think about walking across a glacier in these things....damn that was uncomfortable.
Review
Review by: brent_e, 2006-01-18
I like these crampons! they stick well and have a lot of options. started with them in mono and am now using duals because i find them more stable. I've used footfangs and G14's briefly. Only ONE gripe: if they had an adjustable rear bail they would be a 5. EDIT from last time i posted review. They are back to monopoint and will remain there. They are still good pons and stick really well in this format!