Vasak Crampons W/ Wire Lever Binding
Item Details
|
Reviews
(
2
)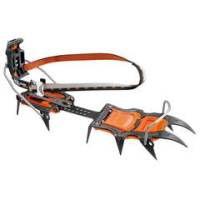 Manufacturer:
Petzl



This item may be available at:
Description
Walking on 10 points: length of points designed for optimal stability and avoidance of the "stilt" effect, lateral points are separated to respect the asymmetry of the boot and to limit the "rail" effect which increases the risk of slipping, supplied with ANTISNOW to avoid slipping on sticky snow. Front pointing: 2 flat front points for increased bearing power, thin-section points for good penetration on ice, next 2 points inclined to give stability. Lightweight: less than 900 g whichever binding is chosen. Adjustment is easy (no tools) and precise (to the half-size). Available with 4 types of binding systems: SIDELOCK binding, for boots with front and rear sole overlaps (wire at front and rear). Rapid-fastening lateral binding system, avoiding the encumbrance of a heel-bail, SPIRLOCK, for boots with a rear sole overlap (wire at the rear, flexible binding at the front). Strap fastening system, avoiding the encumbrance of a heel-bail. LEVERLOCK, for boots with a rear sole overlap. Flexible binding at the front, heel bail with micrometric adjustment and wide adjustment range at the rear. FLEXLOCK, for boots without sole overlaps. Flexible bindings at the front and the rear, which adapt to the shape of the boot, strap fastening. Technical specifications : Sizes: 36 to 46 (M bar, fitted as standard) and 41 to 50 (L bar, optional).
2 Reviews
Review
Review by: petsfed, 2006-02-24
The Spirlock bindng is wierd and hard to get used to, but it seems secure enough. Crampon itself is pretty good for easy ice, walks well too.
Review
Review by: martinheynert, 2005-12-29
Very good craftmanship in every aspect. For the purpose given by the manufacturer, they work absolutely fine.

I have mine with Spirlock binding. I use them both with my very rigid high mountain boots and my Garmont Dakota trecking boots.

Anti-Ball plates come with the crampons and work really good.

A pro over Grivel is the ability to adjust the length finer thanks to a bar with holes for half sizes.

Front point construction works also for not to steep mixed terrain.

Not designed for 90° or overhanging ice falls.