XLC 490 Hyperlight Crampons
Item Details
|
Reviews
(
1
)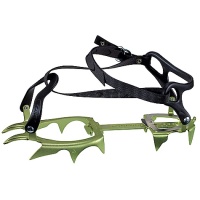 Manufacturer:
CAMP USA



This item may be available at:
Description
Same basic design and construction as the Hyperlight XLC 390 crampons with a universal binding for a maximum versatility and fit. Ideal for competitive ski touring and high-intensity, low-angle backcountry pursuits. -A pair weighs only 490 grams / pair -For alpinism and competitive ski touring -Equipped with universal binding -7075 aluminum alloy construction
1 Review
Review
Review by: sixleggedinsect, 2006-01-03
First off- take this with a grain of salt. I have no experience with any other lightweight crampons. I bought these for their weight/price/feature package, and have been very happy with them. But- i can make no comparisons with other (aluminum) products. so- they work great. ive done plenty of glacier travel with them from miles of walking to heinous steep stuff. i woudlnt buy them as a frontpointing intensive set, because youd probably want to sharpen them to get into hard ice and they'll die an early death, but thats probably not what you wanted in a ultralight crampon, right? i used for a season this year, mostly strapped onto approach shoes, and have no problem with the strap system. the metal is durable enough. i did, actually, do a fair bit of walking on rock. no marathons, but sometimes you just have to if you want to make good time between stretches of snow. however, it doesnt matter much if you're not particularly aggressive. it is a problem if you want to keep your points sharp, but that sort of thing shouldnt matter if youre using lightweight crampons. ie: the terrain should be mellow enough that you dont need razors on your feet. i never sharpened my points, and they look pretty mcuh the same as when i bought them, but i digress. I do have some concerns about their durability. my partner and i both were using the lightweight strap on model over tennis shoes, and he broke the bar joining the front and rear plates and we had to spend a little while jerry-rigging it with a scrap of parachute cord. it wasnt catastrophic, but woudl have been a real downer on a bigger expedition or where the stakes were higher. camp is sending him a new one for free, but still. i also wonder about the rivets that hold the plastic strap-on pieces on. never trusted rivets that move around completely, but then- neither of us had problems with them, so perhaps im being paranoid.

they would be perfect crampons for me if the middle bar was made of thin steel or titanium instead of aluminum. much more durable in terms of the wear crampons get.

all in all, i like them though. have no plans to replace them. i jsut havnt used anything else and couldnt make any comparisons with other products. if you're in terrain where you'd be f*ed if they broke, consider wearing them with stiff shoes where they wont flex all the time, or pack along a bit of good accessory cord to tie the plates together in the (unlikely) event of a bar break.