Air Tech Evolution Ice Axe
Item Details
|
Reviews
(
2
)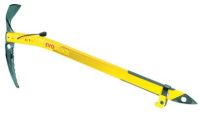 Manufacturer:
Grivel



This item may be available at:
Description
The huge success of the alpine versions of the WING range (Alp Wing and Light Wing) has encouraged us to create a new version of the famous Air Tech axe. The head, which is hot forged from a single piece of steel, has become an established alpine classic. The new shaft's gentle curve just below the head gives greater clearance and makes anchoring easier on any sort of terrain, whilst the lower straight part of the shaft will penetrate into snow with little effort. Also available with Slider, the new hand rest that slides to the top of the shaft when sunk in snow or to the bottom to support hand in traction. The most advanced axe technology all in less than 500 grams!
2 Reviews
Great for the Alps
Review by: peterbayliss, 2007-08-12
I used a pair of these (axe and hammer) this summer in the Alps and found them great. They are light for when you are carrying them on your pack, the shaft easily penetrates snow and the gently curve protects your knuckles, they also swing well.
I highly recommend them for alpine routes and have used them on 55o snow and ice but for very steep ice or hard mixed routes I would use a more technical axe.
Alpine tool supreme
Review by: pazer0, 2007-01-29
Used this on Liberty Ridge last June, along with one Cobra. Climbed a section of 70+ ice and I was amazed at how well it performed. It is light, strong, plunges well, arrests well and feels good in my hand. This has replaced my other Alpine axes. I took the lease off and just tied a new webbing leash. Have not used the slider. Worth the money.