Air Tech Racing Ice Axe
Item Details
|
Reviews
(
1
)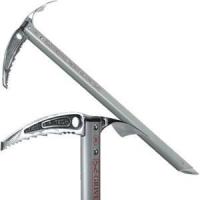 Manufacturer:
Grivel



This item may be available at:
Description
The Grivel Air Tech Racing Ice Axe is ideal for mountaineers searching for the lightest possible tool without sacrificing the strength and durability of a genuine, hot-forged steel head. The Air Tech Racing Ice Axe weighs only 14.1oz and is still durable enough to take the abuse that alpine climbing and mountaineering dishes out. Its hot-forges pick and adze take a beating that would reduce most lightweight ice axes to scrap metal. Updated with a slightly curved shaft, the Air Tech Racing Ice Axe is now easier to use for self arrest and clears ice bulges better.
1 Review
Great Alpine Axe
Review by: big_red, 2007-01-12
I don't know exactly what to say about this axe that people won't already know. The major benefit to this one is the fact that it is LIGHT!! Granted, not as light as the Nepal but the confidence brought about by the Chromoly head is something that I won't sacrifice just yet. I have played around and climbed vertical ice with this tool and often team it up with a straight shafted shrike for alpine couloirs. This axe really stands out on alpine slogs such as Denali and Rainier.

The one downside I have noticed with this axe came on just one climb. Snow was balling up really bad on a descent and we were having to hit our crampons with the axe shaft every step (I'm sure you all know this drill). After that climb I really noticed the shaft was made of softer metal when I compared it to my partner's Raven. Mine looked really chewed up in comparison but that was 2 years ago and it's still doing great.