Alp Wing
Item Details
|
Reviews
(
2
)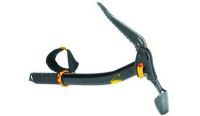 Manufacturer:
Grivel



This item may be available at:
Description
We are very proud of the Alp Wing and Light Wing tools. These aren't waterfall tools adapted to alpinism; we developed this generation of ice tools specifically for technical climbing on all of the world's mountains. The modular head is hot-forged. The shaft permits good "clearance " to overcome any bulges without levering the pick out of the ice. The lower part of the shaft is relatively straight, which penetrates hard snow easily. The natural rubber grip is flush with the shaft. The Easy-G leash allows rapid manipulation: brilliant support on steep terrain but quick to open with a gentle sideways pull. It is efficient in the mountains where one continually transitions between the head and shaft of the tool. This leash represents real progress in an unexpected field. Choose the Goulottes pick for strength and durability. Choose the Evolution pick for high performance.
2 Reviews
Review
Review by: mutee, 2006-09-01
really great all around ice tool. bought them last year for mixed and ice climbing and they did really cool. not so expensive, not so curved but bloody effective!
Review
Review by: griffin, 2006-08-13
Used one over the course of 3 days in the winter of '05. Great for alpine gullies, cane well, self arrest well. If you will only dabble in really steep ice and want long days in the gullies, these are for you. Harder ice/mixed craggin, I'm glad I have other tools.