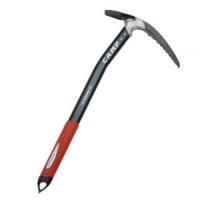 Manufacturer:
CAMP USA



This item may be available at:
Description
The Camp Alpax Special blurs the lines between an ice tool and a mountaineering axe to give you a versatile tool that takes on steep ice as easily as a snowy summit ridge. Thanks to the reverse-curved pick and slightly bent shaft, the Camp Alpax clears ice bulges with ease. A bottom pommel lets you run leashless on the steep stuff, and it stows in its own handle to let you plunge the tool in the snow.
1 Review
Lines Blurred
Review by: wig-cam, 2011-10-02
The lines are not really clear when using the Alpaxe. Which is why I really love them. I'm 5'8' and an avid rock and winter climber. I got these axes for general purpose technical mountaineering. I need something that will work for everything. With that comes the reality that they do nothing perfect however, can do anything as long as the person attached has some experience. They are long enough to walk on something steep and short enough to swing into ice. They are weighted well and sink pretty deep into good ice. Not too good for general glacier walking but would work if their all you have. This year they came out with a new integrated guard which I think is smart. I would recommend leashes on older models and some land experience before launching into a weekend warrior situation. In tandum, adaze and shovel, they are unbeatable. They are made long enough for steep snow and curved enough for some vertical ice. Good choice when you just want two axes that will do it all.