Alpha-Ti Hammer
Item Details
|
Reviews
(
2
)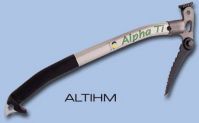 2 Reviews
Alpha Titanium ice tool
Review by: chedontsurf, 2007-07-19
Not very impressed with my A-Ti tools. Bought em last year and mostly climbed in Cody. OK for WI3, but tough going above that grade for several reasons: shaft needs more bend for vertical ice and feel really sketchy when hooking chandelier ice, grip is way too big(I have 9.5" span from tip of thumb to tip of pinky). I would recommend cutting off the foam grip and using grip tape. the yates handcuffs they came w/ are pretty hard to get in & out of when wearing heavy winter gloves. picks need much longer front tooth. I've sharpened mine a couple of times and they're almost gone. that aside, they're well balanced and good for WI3 or less, and the straighter shaft makes them a decent choice for mountaineering applications. I wouldn't buy em again. Just got a new set of DMM Rebels and can't wait to swing em.
Review
Review by: mother_sheep, 2005-01-31
I'm not used to using a leashed tool but I do feel that this is a good tool. It's pretty light. I'l like to see a little more of a bend in the shaft. I'm also going to have to make a slight adjustment to the pic. It's angled too far down. Once I master using leashed tools, I think I'll really enjoy the T-1, especially for longer/multi-pitch routes where I would not want to go leashless. OP just keeps making improvements to their gear.