Anaconda Cup Ice Tool
Item Details
|
Reviews
(
1
)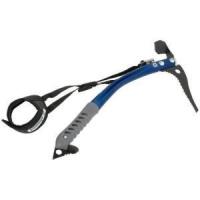 Manufacturer:
Simond



This item may be available at:
Description
As the flagship in the Simond line, the Anaconda Cup Ice Tool includes top-end features like a high-clearance shaft, forged pick for durability, and pommel rest to reduce finger bashing. Simond designed the Anaconda Cup Ice Tool with their Carving Concept fluted shaft to reduce vibrations for less ice shattering and better penetration. When you need to clear burly cauliflowers on the way to the next belay, count on this high-clearance Simond tool.
1 Review
Lightest allround tool available 2010
Review by: Manasloo, 2010-02-25
These are definitely great tools. They might not look as aggressive, cool and modern as the latest BD or Petzl mixed tools but as long as you do not climb overhanging rock terrain they have advantages no other tools offer:

1. Weight
With the aluminum inserts to replace shovel and hammer (not needed in >95% of the cases) these tools are absolutely the lightest on the market. They weigh only 470g or 16,5 oz per piece (no catalogue data, personally checked). This is due to the Simond patent allowing a direct mount of the pick in the shaft. Believe me, if properly sharpened they stick even deeper and more precisely than heavier tools (also on hard ice). The lighter they are the more you are able to control them. In addition it means much less fatigue on long hauls. When using these tools with leashes your legs will weaken prior to your arms.

2. Versatility
With the options of spike, hammer, shovel and leashes, all of them (with the exception of the spike) removable or applicable according to the specific use, this tool is suited for alpine ice climbing (north faces), waterfall ice climbing and moderate mixed routes, leashless or not. Extreme mixed or dry tooling is not recommended because of the shaft shape and pick specification.

3. Construction
I already mentioned the patent on the shaft/pick design. Another patent protects the compressed shaft in the middle section. This offers less vibration and more clearance. The leashes work really good, detach easily and allow to grip the tool at each end, however, whereever you need to. Picks are replacable without tools but I admit that it takes longer than with other axes.

I use these ice tools for 2 seasons now and I am delighted. Everyonce a while I take some Nomics, Cobras or the new Fusions in my hand. But as soon as I make one single test-swing in the shop I put them in the shelf again and decide that my Anacondas feel much better in my hands.