Anarchist
Item Details
|
Reviews
(
1
)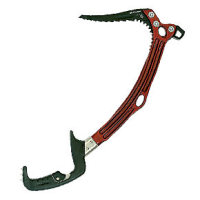 Manufacturer:
DMM



This item may be available at:
Description
From DMM's website:
The Anarchist is a leashless tool, this style of climbing allows you to make more gymnastic moves, shake out, hang an axe over a shoulder and swap hands making sideways moves a doddle.
The Anarchist and Rebel are the only axes in the world that are hot forged and the reasons why these axes work so well is best described in the way we manufacture them.
In hot forging the shaft we have to wind the forging presses up to 800 tonnes of pressure, to flow the aluminium into the unique signature I Beam structure. This allows us to distribute the weight and strength to make a perfectly balanced tool.
We also hot forge the (Type B) Hedgehog topped pick from EN24 steel, a process which allows the intricate design this top end axe demands improving strength and ice penetration.
The hammer is investment cast allowing us to make this very intricate 3D design which keeps weight to a minimum and strength to a premium.
The dual compound handles and adjustable trigger fingers are injection moulded which allows us to create an ergonmic handle that improves precision, comfort and support minimizing pump and maximizing enjoyment.
Editors Review
| | |
| --- | --- |
| | Is the Anarchist just another pretty ice axe? Darkside puts DMM's new toy to the test! |
1 Review
Dmm Anarchist Mixed Only!!!
Review by: drytooler, 2009-03-21
Dmm hot forged leash less tool great design
its good in dry tooling but not so stable whit changing grips it shifts more that the fusion. The main reason fore is the longer than normal blade/pick.

In ice its oke as the route is climb, so there are some features. In blank ice its total shit like the fusion. Because the angle of the blade is to small so the pick bounces of the ice ore creates big crater's.