Android Ice Axe Leash
Item Details
|
Reviews
(
9
)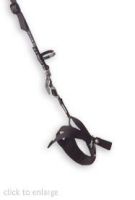 Description
This is the leash of the future: It's comfortable, supportive, stays tight, detaches from the tool and allows you to climb without inhibition. With its quick-release clip, you never have to remove your wrist from the leash—conserving precious energy. The Android €ts all types of tools and can be €ne-tuned up and down the shaft to your preferences. Tools don't twist and tangle when climbing tool-free or placing pro, while a lush wrist pad evenly distributes the load to reduce fatigue.
9 Reviews

Write your own Review


Read all 9 reviews
Android Leash
Review by: go_dyno, 2008-01-12
Love them, but they aren't perfected quite yet. They would be perfect if they weren't so fragile. I like everything about them, but when you unclip to clean a route and are banging ice out of your screw (not on the threads) or clearing snow/ice with hands the buckles are flopping about against rock or ice and will be destroyed in one day if you let then bang against the ice. That is just too fragile, but I do think they are great otherwise. Too expensive! I'm willing to pay for the best, but $45 for these is a bit insulting. Also, wouldn't it make more sense to have the buckle on the tool and the stud on the wrist section. It would better protect the buckle and you could see the slot in the buckle to easier put the stud in rather than having to move the buckle over the not so stable stud from the blind side of the buckle?
Review
Review by: forkliftdaddy, 2005-04-01
Best leashes I've tried for steeper ice. No wrist pain like the Lockdown. No dangling tools. No problems at all after I got the hang of using them. Great leashes and worth every penny.
Review
Review by: mother_sheep, 2004-12-28
These leashes are the shizznitzkey or whatever. The ability to remove the leash with ease while screwing the ice is key for me. I'm either leashless or using androids. Screw the Grivel leashes!
Review
Review by: rendog, 2004-11-15
I kicked and screamed about using these leashes for a loooong time, but last year I tried them for the first time and now I went out and bought 'em. i just love the ease that I can clip and unclip them to shake out and avoid the pump, for placing screws, everything.
Review
Review by: brianthew, 2004-06-02
I'm a fan of these leashes. When bound correctly via the hose clamps, the main risk associated with these leashes - accidental unclipping - is pretty much nullified. It's great being able to unclip from the tool without wrestling with your leash and firing in a screw. Only reason they get a 4 is because of the price.