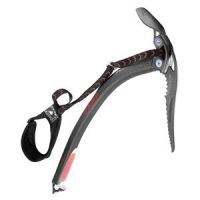 Manufacturer:
CAMP USA



This item may be available at:
Description
The Awax comes from the research of competition and is an extremely light Ice fall axe (less than 600 g !)ergonomic and adherent handgrip. While using this tool, the following leash solutions are possible: -Without the leash, the Awax has been designed to allow the least amount of energy to be used. -With the Awax leash, right/left hand reversible, a single movement is enough to release the hand from the leash.
1 Review
Camp Awax
Review by: brokenankle, 2008-01-23
A great tool. The swing is light and balanced, with great clearance and an easy to plunge shaft. I use these tools for WI cragging and alpine and love them for both. My only complaint was the small strip of grip tape on the handle (think sandpaper/deck tape) was wreaking havoc on my gloves. But a thin wrapping of splicing tape solved that problem. The grips are small, so the 2mm increase in diameter wasnt even noticeable for me.