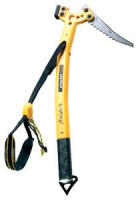 Description
Hammer version of the AXAR. The Axar is an easy to handle, all-terrain ice axe. It features a curve in the top of the shaft to allow for better placements and hooking, a blade that is thinner at the tip to penetrate the densest ice, and a protective point at the bottom of the shaft to protect the fingers. The smooth, low-profile rubber coating allows efficient plunging. Available with hadze also.
2 Reviews
Review
Review by: sharpie, 2004-05-24
A good all-round alpine tool. Not an ideal choice if you intend to do primarily water ice.
Review
Review by: slhappy, 2003-11-04
sweet sierra nevada tool. go anywhere tools. the swing is well balanced and they come out of their placement with ease. used them on many ascents and look forward to getting them out ASAP.