Bulldog Hammer Ice Tool
Item Details
|
Reviews
(
2
)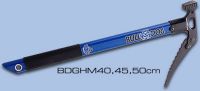 Description
Bulldog Hammer Ice Tool
2 Reviews
Bulldog
Review by: EvilMonkey, 2009-12-21
you get what you pay for. the bend in the shaft is almost non-existent. the grip is too fat, even for my hands, and I wear XL gloves. i cut the foam grip off, covered the handle with grip tape, and welded a pinky hook onto the spike. they're a lot better now, but I only use one as a third tool these days.
Review
Review by: adamtd, 2005-03-05
Not a great firts line tool, but an excellent third tool. this is what i usually carry as a third tool for teh hammer. The shaft plunges well if you're in an alpine environmentthat has snow fields.