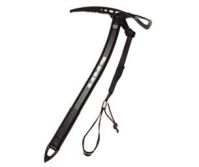 Manufacturer:
DMM



This item may be available at:
Description
A lightweight but fully T tested mountaineering axe. One day all axes will be curved, why? With easier plunging, extra clearance and more comfortable storage between the back and a rucksack, it seems obvious to us at least.
Curved shaft gives clearance, and allows easier plunging when climbing uphill.
T Tested Pick excellent for self arrest and easy gully / easy angled Alpine Ice.
Ergonomic head for comfortable carrying.
Adze works well for step cutting.
Lightweight yet very strong.
Epoxy paint finish.
Standard Leash included in price.
1 Review
Review
Review by: mgg, 2005-08-01
For mountaineering, these are extremly popular in the UK. Very strong, light and plunge well. Good value.