Fusion Ice Axe
Item Details
|
Reviews
(
1
)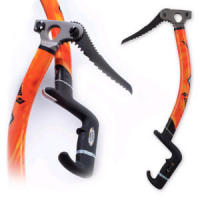 Description
With input from the worlds best climbers, the Fusion underwent almost three years of testing and development before being unleashed to the market. This weapon has already seen more ascents of Musashi than any other tool, helped Ines Papert win the overall Ice World Cup, and allowed her and others to send the worlds hardest lines. This tool takes leashless to the next level with its unique geometry and patent-pending grip. With a constant hand-to-pick angle, the Fusion puts an end to dreaded pick-shift when switching from the lower to the upper grip. This grip has an adjustable pommel that fine tunes the grips length to match hand size for maximum control, and incorporates a curved finger rest to lock the hand into place, minimizing fatigue. The Fusion is designed with an aggressive pick angle to attack overhanging mixed lines while maintaining torsional stability. The Fusion Picks serrated top bites when stein pulling and has a steep front tooth for hooking. Whether youre looking to climb with more freedom or more performance, the Fusion will shine.
1 Review
Review
Review by: redpointron, 2005-01-28
if you're really serious about mixed climbing, then, you cannot go wrong with the black diamond fusion. adjustable hand grip allows you to "customize" to your hand size. amazingly similar angle between upper and lower grips reduces the amount of pick movement when matching hands, thus, reducing the chance you will "pitch" off. takes a little practice swinging in pure ice, but well worth it once the m-climbing begins.