Manta Clearance Shaft
Item Details
|
Reviews
(
1
)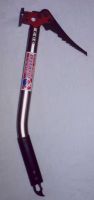 Description
CLEARANCE SHAFT reaches around bulges as well as other modern clearance designs. The MANTA, however, is superior in that the straight upper portion allows easy hammering and chopping. Just hold the shaft above the curve and it's just like using a straight shaft tool. Other clearance designs have "ANTI-CLEARANCE" when using the hammer/adze side of the head. This is NOT a problem with the MANTA.
1 Review
Review
Review by: tradklime, 2004-11-22
Absolutely rule. Very light, almost perfect swing, extremely low vibration, and the picks are the best I've seen/ used. Some clearance is sacraficed with the shaft configuration, but this design excels on rock. Very well contructed.