Quantum Tech Ice Axe
Item Details
|
Reviews
(
2
)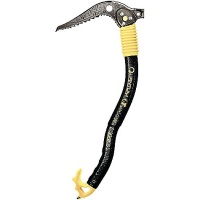 Manufacturer:
Grivel



This item may be available at:
Description
The Quantum Techby Grivelhas the same geometry as the Matrix Tech but the shaft is made from carbon composite material. The B-rated shaft, which offers TaaKoon-like clearance to wrap around the most defiant ice mushrooms, places the wrist in a neutral position on vertical and overhanging pitches. Quantum Tech features the same replaceable, hot-forged ChroMoly steel head as Matrix Tech. The head is available with an adze, or a hammer. The tool weighs in at 520g. It is designed to be used without a leash. Hand support is provided by a comfortable injection-molded pommel, which is tipped with a tungsten carbide spike to provide stability and traction in the piolet canne position. The Trigger may be attached to distribute the load and offer more precise control.Carbon is only cool if its lighter than a similar alloy product. Quantum Tech is lighter than its alloy cunterpart, vibration is dampened, it doesnt conduct temperature as efficiently. In short, Quantum Tech is cool.Features: BLADE Positive, radical MATERIALS ChroMoly CONSTRUCTION Hot-forged head, Carbon Composite shaft RANGE OF USE Sport-mixed ClimbingSIZEcm50 WEIGHTg 520
2 Reviews
quantum tech
Review by: EvilMonkey, 2009-12-21
great, balanced swing. light. unlike the first review, mine have a rubber grip. i think they added that the second year. i wear XL gloves and haven't had a problem with the pinky grip being too tight at all with my BD Predator gloves. they're kind of thin, but padded on the knuckles. maybe the padding helps with comfort. i added, and highly recommend buying and adding the triggers. they really help with swing control and reduce over-gripping. the large, positive pinky rest and trigger were the reasons i switched from DMM Rebels. i haven't noticed any snow sticking to the carbon fiber shaft, but snow out here is pretty dry.
Perfect swing, great picks.
Review by: sungam, 2009-08-19
These things swing exceptionally well, they're light etc. as you would expect, and have Grivel's usual fantastic quality. The only things that lose them a star are the fact that the horn on the bottom it too close for me - I have giant hands and it pinches my pinky a little too much when I wear thicker gloves - and the fact that the carbonfiber gets iced up in damp conditions when there's snow about. It needs a rubber grip to be added on, I suppose. The only reason I haven't done this is because it would make the pinky even tighter...