Quark M and P
Item Details
|
Reviews
(
11
)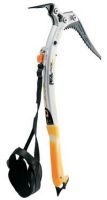 Description
High performance leashed ice axe for ice climbing, the M model is equipped with a hammer, the P model with an adze. both share the same bent handle and are purchased with the chosen head, however the heads are interchangeable and available separately.
A technical axe for ice and mixed route climbing with a high level of difficulty.- Wide adze for placement in hard snow and clearing ice formations.
Placement made easy due to excellent clearance (ice formations and mantles).


Good swinging performance, even with a straight arm:

minimum mass around the rotation point (handle), maximum around the head of the axe,
small sized spike helps prevent snagging whilst swinging.



Placement efficiency:

forged pick, thinner at the tip, to prevent ice shattering,
steep angled first tooth for thin ice and small edges,
good stability whilst placing and hooking due to the teeth distribution.



Easy removal even with deep placements due to the bevelled teeth.


A wide adze for chopping hard snow and clearing ice formations.
Technical specifications :
Equipped with CASCADE pick.
Interchangeable pick.
Comes with CLIPPER leash.
645 g.
Shaft type T.
50 cm.
Color: grey shaft, orange grip
11 Reviews

Write your own Review


Read all 11 reviews