Raven Ice Axe
Item Details
|
Reviews
(
3
)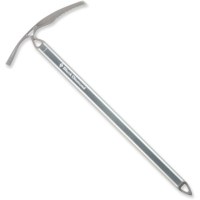 Description
A traditional axe for legendary ascents, the trusty Black Diamond Raven delivers quality you can feel. 7075 aluminum shaft keeps weight down without sacrificing strength. 17-4 investment cast stainless-steel head and spike are great for self-arresting, glissading and chopping steps. Picks curve and teeth securely bite into snow and ice. Comfortable, ergonomic hand platform provides a secure grip.
3 Reviews
Review
Review by: physics, 2006-07-31
This is an "ok" general mountaineering ice axe. I originally got the model including the slider leash; be forewarned the leash it is totally ill-designed and useless. I ended up removing mine. if you prefer a leash, it is better to buy the model without and make your own out of webbing and tie it to the hole in the head. This axe is heavy. With that said, it is durable and mine has taken much use and abuse. personally I wish I would have purchased a different model mountaineering axe to save a few ounces
Review
Review by: sarcat, 2004-05-24
I like mine. It's light for sure. Make sure you get it long enough for your height. It feels strong and supportive. I've built anchors off of it and they were bomber. The head is comfy to hold onto all day.
Review
Review by: mrtristan, 2003-04-04
This is a great overall ice axe for snow climbing. It's lighter than most and feels sooo nice when holding the head, thanks to the finger grooves.

There are some not-so-nice aspects of this axe, however. The pick is sort of 3D and thicker than most other axes. As a result, it doesnt go into hard water ice as well. It still goes, but not as easily as an axe with a regular-style pick. But since this is not a technical ice climbing axe, its not too much of a problem. It works great for self arresting and whatever else.

Also, the sides of the pick are sort of set back from the top, and snow has the annoying tendency to build up there.

Overall, however, the awesome grip and light weight win the day. I love this ic axe.