Reactor Ice Tool W/ Pick
Item Details
|
Reviews
(
2
)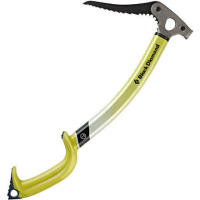 Description
A leashless tool that is actually designed to climb ice as well as it climbs rock. Comes with laser picks, and a usable spike at the bottom to cane up to the climb with, and a small hammer.
2 Reviews
Used them for a year and have retired them in favour of Nomics
Review by: kiwijason, 2008-01-22
They were ok but had a bad habit of bouncing on ice and the point of balance changed when you changed grip positions.
BD Reactors
Review by: dr_feelgood, 2008-01-19
I purchased these as a set of beginner tools and so far I love them. They climb ice extremely well, although sometimes the pick gets a tad bit stuck, requiring a vigorous up and down motion(thats what she said) to get them out. They seem to perform alright on mixed climbs as well, in the limited amount I have used them for that. My only real gripes are that the grips could be a bit smaller/have a forefinger rest.