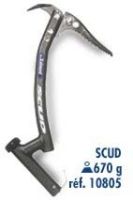 Manufacturer:
Simond



This item may be available at:
Description
The Radical ice tool for extreme : ice free climbing, ice contest, high-grade ice fall, dry tooling. The SCUD, is the first tool of a new generation specilly designed tu be use with out a leash. It change the sport and make it possible where it was not. The grips is excellent. • Your fingers are always protected. • The picking ande anchoring are great. • The shaft allows a more creative gesture. • Tiredness is reduce to the minimum • The adze and the hammer can be used in dry tooling for picking and in the crack.

1 Review
Review
Review by: brianthew, 2004-06-02
Looking to get into mixed climbing, I picked up a cheap pair of these. Of course, they possess the typical advantages and drawbacks of leashless tools, so I won't discuss those. It has a solid swing when swung from bottom grip, and a rather compromised one when swung from the upper grip, but that is to be expected. One drawback I've noticed is the lack of a proper rest above the lower grip to place a hand on when matching, instead you have to really squeexe the shaft or put torque on the tool by grabbing the top of the lower grip. I know some have been able to screw on such a grip, but I've not used a Scud like this. If you have or get a pair of these, you might want to wrap the things in some grip tape (skateboarder's deck tape is good). They're worth the price I paid for ($75 each used) but were I to get a new pair, I'd go for the more modern offerings.