Super Demon Cup
Item Details
|
Reviews
(
1
)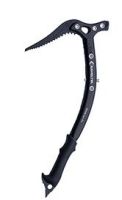 Manufacturer:
Raveltik



This item may be available at:
Description
An allrounder, much like Petzl's Quark, the Raveltik Super Demon Cup is designed to take it all on, from Alpine climbs to hard mixed. Climb it leashless with no adjustments, or use their Freehand or Clip leash systems. The handle is articulated for leashless climbing without adjustments. The bottom spike is interchangeable with a flat piece for mixed climbing.
1 Review
Review
Review by: tallnik, 2005-11-28
I like my Super Demons...

I've only played with them once, but I found the swing to be similar to the Quarks, but with a little more power behind it. The extra power comes from the extra weight. I found the Quarks to be too light, so I prefer the weight of these. While the pick isn't as nice as on the Quarks, it stuck well, came out well, and performed well on mixed terrain straight out of the box. For serious mixed, you'd obviously want to seriously modify the pick, but for ice, and gentle mixed, it was all good. I have their clip leash, and was very satisfied in terms of comfort and it was easy to unclip and clip.

Five years on:

I still like these tools a whole lot. The last four seasons I've been climbing leashless with them, and I had bought the "boxer" conversion which helps protect your hands from both bashing and from the cold. Not as comfortable to climb leashless with as other tools, as the grip is quite narrow at the bottom. I find myself overgripping at times to compensate for this discomfort - leading me to pump out faster. After a couple seasons in the rockies, I also found that I would like to switch tools for something lighter on long routes. For cold days though, I still plan on keeping these in the mix. I still have the leashes and have occasionally pulled them out. I typically use some home-made umbilicals when climbing leashless.

A note on the picks: when I swap a new one in, I end up filing off a lot of metal along the top edge, and changing the teeth configuration to allow them to clean easier.