Taa-K-Oon
Item Details
|
Reviews
(
2
)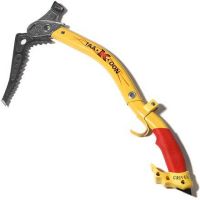 Manufacturer:
Grivel



This item may be available at:
Description
Grivel's new leashless tool developed for technical ice and mixed climbing. Its deep clearance curve clears obstacles without levering the pick out of the ice. An adjustable trigger distributes weight onto the strongest finger. The ergonomic pommel, designed specifically for leashless climbing, supports the hand. This model comes with a hammer head, and Grivel's Mixte pick, suitable for the demands of ice and rock placements.
2 Reviews
Review
Review by: the_climber, 2006-02-15
Best tool I've ever had. Been climbing on the Taa-K-oon's since the first year it was released in North America. It's a dream on steep pure ice and steep mixed. Chandeliered ice is no problem even when ice quality is poor. Grivel is true to form on this tool with a very refined feel to the swing and perfect head weight, even if the hammer is removed to lighten the tool. Rolling moderate and highly featured steep ice is where you'll love the high clearence the shaft provides, as you clear buldges and hook you way up the climb. Feedback from the tool when steinpulling or torquing is perfect. Plunging is difficult, but managable, with the Horn and Trigger in place and improves slightly when they are removed. If your tendency is to climb pure ice, then the Cascade pick is the best bet, but if you do enjoy mixed, or tend to find yourself climbing boilerplate ice all to often, then the stronger Mixed pick is the way to go. Filing down the 1st tooth on the mixed pick will greatly reduce the effort needed to clean the tool and has no noticable change in performance on mixed terrain. As for leashes, the tool swings better without one, but I have found I still like the comfort of a leash on longer routes where the prospect of a dropped tool is not an option. I recomend the BD Android, set so that the leash is not weighted untill you loosen your grip on the handle. You'll want low volume gloves when swinging these puppies, so consider carrying a set of belay gloves when climbing in cold conditions.
Review
Review by: tradman, 2006-01-16
An excellent all-round tool. Very good on hard mixed and dry routes, with precise placements and hooking thanks to the great trigger position. Feels very strong with plenty of feedback in thin torques and cracks, and rigid enough for big laybacks and steins. Leashes are good, but most climbers will take them off pretty quickly as the tool really shines leashess.

The tool is slightly heavy but head-positive, places well in good ice even with the mixte picks it comes with. Can be tricky to extract when new, but a little use improves it immensely.

Slight gripes are that the space between the trigger and heel is cramped when wearing gloves, and the tool badly needs grip tape on the shaft for higher hand positions. Additionally, this is not a tool for novice alpinists, as it plunges poorly with the heel on and only marginally better with it off because of the shaft's double curve.

A good buy and a tool that's strong and technical but can be easily modified for a variety of styles and purposes.