Tech Wing
Item Details
|
Reviews
(
2
)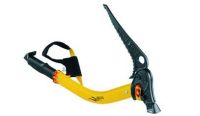 Manufacturer:
Grivel



This item may be available at:
Description
Tech Wing is a very technical ice axe. Its radically curved shaft allows hooking in any situation: modern mixed, dry tooling, genuine grade 7 ice. Explore the upper limits of winter climbing. The modular head is hot-forged. The shaft has 20 cm of clearance, allowing a long reach over virtually any cauliflower or into any pocket. The clearance is especially useful when pulling over a roof. Anatomically-shaped, natural rubber grip features a "pommel" to support the hand whether climbing with a leash or without. The Easy-G leash allows rapid manipulation: brilliant support on steep terrain but quick to open with a gentle sideways pull. It is efficient in the mountains where one continually transitions between the head and shaft of the tool. This leash represents real progress in an unexpected field. Choose the Mixte Pick "over the top" strength. Choose the Cascade Pick for high performance.
2 Reviews
Leashes on Tech Wings
Review by: redcell6613, 2008-07-05
I agree these leashes are a pain. I have dealt with them for years now though. I guess I just got used to them. The tools themselves are great. I'm in my 5th year with them, and as far as leashed tools I use, I keep going back to these. They have a good curve in them and are weighted nicely for a good fluid swing. I find that they are a bit on the heavy side compared to certain tools like Quarks. Overall I love them
Review
Review by: mother_sheep, 2004-12-28
Great tool. I kept getting it stuck in the ice though. I'm not sure if it was the conditions, the tool or my swing. The tool is light and has an agressive bend in the shaft. Ditch the leashes though and add BD Androids. The Grivel leashes are a pain in the ass.