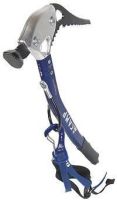 Manufacturer:
CAMP USA



This item may be available at:
Description
The primeval-looking Tiburon pick penetrates with minimal effort and little ice disturbance, and is a favorite in cold, brittle conditions. The simplistic shaft is well suited to alpine conditions, but requires extra grip strength on steep ice or rock. The cable clipper that attaches the leash to the shaft is easy to use, though it rattles during placement. With good clearance and a decent leash, this is a solid waterfall and alpine ice tool for beginners and experts alike. Pros: Excellent all-around tool. Solid pick penetration. Cons: Rattly leash. Lacks ergonomic grip. Overall grade: A- (From Climbing.com)
1 Review
Review
Review by: tallnik, 2005-06-09
I used this axe last season, and I was very satisfied with it. It got the job done. Sticks well in ice, dry tools nicely, but could use a better insulated handle/pinky. It's heavy though, but therefore penetrates into hard ice nicely. I preferred other axes like the Quark, but this axe is a much more palatable price.