Helix Screw
Item Details
|
Reviews
(
2
)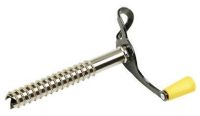 Manufacturer:
Grivel



Available now at:
Description
Grivelís easiest ice screw. Easy to get the first bite in the ice thanks to its symmetrical grip. Easy to screw in thanks to the handle on the grip. Easy to attach a carabiner thanks to the shape of the ring. Easy to carry on the rack with a carabiner, even several at a time. Youíll find that Helix has all the fantastic qualities usually found in a Grivel screw, the ones that have made them famous worldwide and the reference in ice screws. The huge technological capacity and large quantities of production allow Grivel to offer a high quality product at an extremely competitive price. You wonít find anything else on the market with the same quality/cost ratio.
2 Reviews
these rock
Review by: brent_e, 2007-01-15
I've got to place these on most of the climbs I've got on and they are terrific. They don't have quite the versatility of the 360 regarding placement in tight spots, but they still have a small platform. I like them much better than BD's Turbo express. They rack nicely, too. as tallnik said, "what's not to like?" OH, they're cheap, too!
Review
Review by: tallnik, 2005-12-08
Super sharp teeth, the same thread pattern as the Grivel 360, great grip, easy to rack, lots of biners fit on it, small footprint ---> what's not to like? Nothing. I'm super happy with them, they start great, screw in super fast, and the reverse thread that grivel offers I find nice and comforting. Get 'em while they're still cheap. One thing that has come to mine for me is I wonder how long the plastic handle will last on them, and if Grivel will replace it for me if it breaks/I break it.