Omega Tactical Ice Screw
Item Details
|
Reviews
(
3
)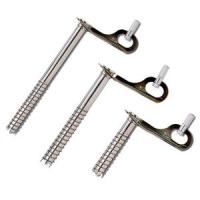 Description
Omega Tactical Ice Screw. Turned and machined from 4130 CrMo steel, this ice screw with knob by Omega Pacific sinks into ice easily.
3 Reviews
Review
Review by: mother_sheep, 2004-12-28
I really, really dislike this screw. I can't seem to get the darn things to bite!!! They suck even when they're brand new.
Review
Review by: crag, 2004-06-17
These screws are fairly decent for their price in comparison to Grivel & BD's. The just don't operate as smoothly as the others especially in hard ice.
Review
Review by: sharpie, 2004-05-24
These screws suck, for $12 more get BDs.