Turbo Ice screw
Item Details
|
Reviews
(
3
)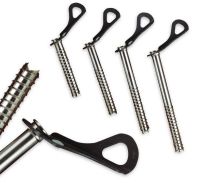 Description
When placing ice protection, time is NOT on your side. You've got to be fast, decisive and accurate. That's why there's the new Turbo Ice Screw. Designed to be placed in seconds flat, the Turbo has a uniquely-tapered tube diameter and thread geometry which allows it to place faster than ever before. Durable threads and razor-sharp teeth STAY sharp year after year. A full-service hanger on the Turbo is easy to rack, turn and clip. Available in five lengths for varying conditions. Strength rating: 10 kN (2298 lbf).
-Sharpest, fastest-placing ice pro around
-High strength and durability—use 'em for years
-New design has unique tube diameter and thread geometry for fast ins, with the strongest pull-out

3 Reviews
Review
Review by: forkliftdaddy, 2005-05-13
Good screw, but takes too long to place when you're pumping out.
Review
Review by: crag, 2004-06-17
Good Screw, used to be the back bone of my rack until the coffee grinders came out. Have the old style and the new style and although the teeth have been bottomed on rock a couple of times the teeth file fairly well. Keep them lubricated after each use with some lite oil, I have had problems with the nickel plating coming off.
Review
Review by: adeptus, 2003-08-23
A good screw that will last a long time and still be sharp. The long sizes are good for belays when time isn't a problem. But if you can, then do yourself the favor of buying the Express model with the small handle for faster placements at the crux.