Atlas 830 snowshoes
Item Details
|
Reviews
(
3
)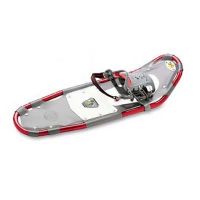 Description
Weight: 2.2 kilograms Walking, hiking, and touring snowshoes. The EZ8™ bindings are built around men's foot lasts, plus they feature built-in arch support and are moulded separately for right and left feet. Single-pull cinching with Fast-loc™ buckles makes the snowshoes easy to get in and out of. Decks are durable and abrasion-resistant Nytex™. Lightweight aircraft-grade 6000-series aluminum tubing frames. EZ8 bindings with soft-padded clamshell design eliminate pressure points and keep your feet warmer. 8Trac™ toe crampons provide excellent climbing performance. Made of stainless steel for greater durability than aluminum. The crampon wings are designed to reduce heel twist off-trail for easier hiking. Heel cleats provide downhill braking action. Made of stainless steel for greater durability than aluminum. Dimensions are 20.3 x 76.2cm (8 x 30in.) Designed for loads from 77 to 113kg (170 to 250lb.), depending on snow conditions. Consider weights of user, pack, and winter clothing when sizing snowshoes.
3 Reviews
Review
Review by: djsauro, 2006-02-16
Took these into the backcountry of the smoky mountains on Le Conte. Unfortunately, the crampons bent when I stepped on rocks. Additionally, the Anti-balling device popped off. I would only recommend these as a flat terrain, perfect powder pair. Step up to the 10 or 12 series versions. The craftsmanship is far superior to the 8 series.
Review
Review by: blue_ice, 2004-08-08
I would suggest to only use these on FLAT land. The bindings twist making it very difficult to traverse any kind of slope. Steer clear of these if you have aspirations of mountain travel!
Review
Review by: emtclimber, 2004-02-23
I bought a pair of these last year and used them once, then returned them, they sucked. The bindings twisted so much that the deck was at a 25 degree angle to the bindings and the crampons bent as soon as I started walking on ice. For the price, I expected much better quality.