Denali Evo Ascent
Item Details
|
Reviews
(
2
)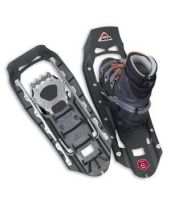 Description
* Unparalleled Traction Steel crampons, traction blades with integrated saber teeth and molded braking bars in deck provide unmatched traction. * Reliable- Proven materials Construction methods and improved design result in an extremely durable snowshoe. * Versatile 6" Evo flotation tails allow you to fine tune your shoes to the snow conditions and pack weight. (sold separately) * Acommodates Large Boots Enlarged boot hole allows use of snowboard and/or ski boots. * Easy to Use New, Evo stand-up binding allows easy entry and exit from the snowshoe. * Climb Easier Televator™ Heel Lifter reduces calf fatigue to make climbing easier and more efficient. * Walk with a More Natural Gait Evo deck with tapered tip and tail makes walking in the shoes easier and more natural. * Secure Fit Crampon extension plate eliminates heel drift and four-strap binding provides a great fit and a secure attachment to the snowshoe. Weight: 3 ˝ lbs. (1589 g) per pair Size: 8 x 22 inches (20 x 56 cm)
2 Reviews
Review
Review by: adamtd, 2005-03-05
These are some great snowshoes. they hold up tp teh abuse I dish out without being so burely that they're heavy. The ascent elevator bar is key. the crampons are very aggresive, enough so that my crampons were feeling neglected. I found it was difficult to ge my my really bulky size 11 Vasque Ice 9000's in the harness, but once I got them in, the harness system held tight. If I could make one improvement to this item, it would be to add some sort of spring to teh pivot point under the foot.
Review
Review by: crazymotos, 2004-12-12
these showshoes F*%$! 'in rock!