Previous
Mountain
Item Details
|
Reviews
(
2
)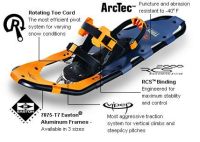 Description
The Mountain Series is engineered with the vertical summit in mind. Proven patented technologies and tapered frames guarantee optimal control and stability. Easton® 7075-T7 frames are 15% lighter and 25% stronger.
2 Reviews
mountain 25
Review by: jeepnphreak, 2010-01-30
I was looking at the atlas 25 and the mountain 25s and chose to go with the tubbs. The reason I went with the tubbs mountain is because the bindings attach to the snowshoew via pin and barrings, the attlas via straps. what is nice about the pin and barring set up is that when I lift my foot up the snowshoes pivots tail down. this has allowed me to do some low 5th class climbing while wearing the snowshoes. The teeth on these shoes are good. Under the ball of the feet the crampons are a good 2 inches and as the foot steps it drives the spiks deeper into the snow. Under the heel there are python teeth like spikes that grip ice and logs like a dream. Just for kicks I tosses some webbing around my weist and was able to climb a tree in these shoes. I have had these for a winter now and have put on over 300 miles on them,they have been great. Nothing yet has broken or failed.
Review
Review by: sarcat, 2004-05-17
The Tubbs I have are 9"x36" long to get me and 35lbs of gear around in deep powder. If I or my gear were lighter I'd do the 8"x30" The binding is easy to get off but takes some adjusting for tight fit when putting them on. I've used them on 3 different boots and after adjusting they fit nicely on all 3. After lots of abuse none of the rivets have ever popped and nothing has ever broken.