10mm Energizer
Item Details
|
Reviews
(
2
)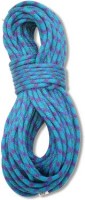 Description
The 10mm Energizer is a hybrid design that couples the exquisite handling and performance characteristics of the 9.7 Lightning Pro with the durability of the 10.5 Accelerator. Its innovative construction results in lighter weight and less bulk than larger ropes without a sacrifice of performance. It excels on long routes and multi-pitch climbs. Available in Standard or Double-Dry treatment. Black/Green mix, 50, 60 or 70 meter. Bi-Color available in Black/Green mix or Purple/Green mix, 60 or 70 meter Standard and 60 or 70 meter Double-Dry. Weight per meter 63 g Impact force 8.7 kN UIAA falls held 9 Static elongation 5.6% Dynamic elongation 30.2% Sheath slippage 5mm
2 Reviews
Review
Review by: nicklikesfire, 2004-04-14
60 M - Double Dry. No problems yet.
Review
Review by: jhwnewengland, 2003-05-23
My favorite rope. Very supple, and a joy to tie knots in and clip. Great handling. I got the double dry version even though it's not the one I ordered, and I love the dry treatment. I haven't climbed ice with it, but the treatment keeps it cleaner and gives the rope a different feel. I wouldn't pay for the dry treatment, but if you happen to get it you'll love it, whether you need it or not.