12 Guage Pad
Item Details
|
Reviews
(
1
)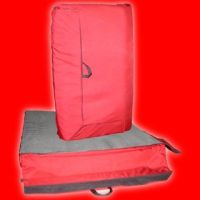 Description
When aim is not your primary concern, but you need to cover a large area with some very distinct stopping power...You'll need a 12-Gauge.
- For highball bouldering and ground coverage
- One piece "Taco" fold
- Velcro closing side and bottom flaps
- Padded shoulder straps, adjustable hip belt
- Ballistic Nylon shell
- Shoe cleaning upholstery top
- External Velcro closing pocket
- Size: 60" x 50" x 4.5"
1 Review
Review
Review by: boulderjoe, 2005-04-22
Although at first, this pad feels kinda stiff, it really feels good to fall on! This pad is excellent, its the perfect size for ground coverage, its not too heavy to carry into your favorite bouldering site, and the velcro closure is bombproof. Packing up this pad is a sinch. You can throw your gear in the middle, fold it closed, velcro it shut, and have it on your back while your friends are still messing around with their metal buckels.