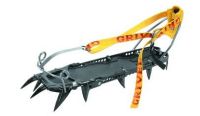 Manufacturer:
Grivel



This item may be available at:
Description
An evolution of the legendary "two function" crampon, which may be articulated for walking or made rigid to climb steep ice. In the flexible mode, the 2F hinges at the ball of the foot, so the crampon comforms to the boot sole's curvature. The 2F is completely adjustable without tools and may be made rigid by the addition of two bolts (included). Extension bars (not included) lengthen the crampon to fit large sizes. Anti-bott included.
2 Reviews
Review
Review by: sixleggedinsect, 2004-11-28
I really disagree with the previous poster who rated these a '1'. the 2fs come through on all their promises. they are a versatile crampon for the mountains, perhaps excelling at nothing, but certainly not bombing at anything. in flexible mountain mode they work fine. period. they are also fairly light, or at least were at the time when i boguht them four years ago. however, the vertical rails on the back mean they collect snow a little more readily than their horizontal-rail alternatives, and therefore i believe it is *absolutely* necessary to invest in the bot plates (mine came included) or make a pair yourself (lighter than the ones that were included with my 2Fs). on vertical ice they work as well as can be expected. the previous poster woudl have you believe that horizontal front points are useless for vertical. a lot of real mountaineers woudl take strong exception to this statement, and for a crampon designed to take all the mountain environments in stride vertical points would be a poor choice. i used to climb steep ice in new england with these crampons. i have no big problem with the horizontal points, and they dont shear out of sh*t ice and hard snow the way the vertical points of my partners do. good for the mountains. not the best for roadside ice craggers. so if you're a roadside ice cragger buy something else. i love mine, and i'll keep climbing in them.
Review
Review by: climbhoser, 2004-09-15
A total bomb! Rigid they're nice, but it's overkill, especially since they have horizontal front points and lose their functionality on vertical ice. Flexible they don't flex with the foot, but instead at a single point, and are thus pointless. Better to go with a semi-rigid with horizontal front points if that's what you're in for. Hell, I've used these on waterfalls and they suck, as do all horizontal front point crampons.