75 SCRAMBLES IN WASHINGTON, Classic Routes to the Summits
Item Details
|
Reviews
(
0
)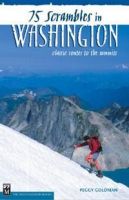 Description
Author : Peggy Goldman
Binding: Paperback
ISBN: 0-89886-761-4
Includes nontechnical mountain ascents for every skill level
Presents appropriate skills and expertise required
Details best season, trip duration, required topos, and travel conditions
Covers scrambles in the Cascades and the Olympic Mountains
Washington state offers a variety of outstanding wilderness destinations for a broad range of mountaineering activities, all within close proximity to civilization. 75 Scrambles in Washington is the first guidebook for Washington to target the realm of nontechnical mountain ascents, otherwise known as scrambles.
Involving off-trail travel over snow and rock with a summit as the destination, scrambling is a challenging and rewarding way to explore Washington's backcountry. Expert author Peggy Goldman presents the knowledge and skills required for safe and efficient travel. Routes vary in level of difficulty, giving the experienced scrambler or climber, as well as those less familiar with off-trail travel, a number of worthwhile destinations to choose from.
You'll find everything here from one-day jaunts to five-day adventures. Each scramble description is accompanied by a detailed map with contour lines and marked with GPS waypoints. Easy-to-read charts help you select your scramble by elevation gain, difficulty rating, distance, number of days, or best season to go. If you enjoy off-trail hiking, this is the only guide you'll need.