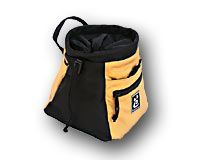 Manufacturer:
Freestone



This item may be available at:
Description
- Flat bottom for more stability, - Two large velcro pockets (back and front), - One zipped pocket on the front, - Toothbrush holdster on the side. Price: Approx 25,- Euros.
1 Review
Review
Review by: thera, 2004-11-09
This is my very first chalk pot. I cannot yet compare it to others but I really do like it.

The ATP is big enough to let me chalk both my hands at the same time. Not too big, not too small. The pockets are also useful in the way that I fill them with tape, keys or whatever is in my own pockets. I seldom put a liquid chalk bottle in the back pocket so it is quite large. The asymetric laced closing works like a charm, no more chalk cloud when droping the pot. Also, it's rather cheap. An overall good product for the price.