A Colorado Daydream: Once Around The Sun
Item Details
|
Reviews
(
2
)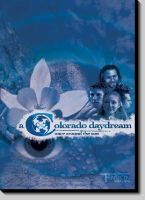 Manufacturer:
Tendon



This item may be available at:
Description
A Colorado Daydream: Once Around The Sun takes you deep into the mountains of Colorado to search for bouldering perfection. Follow Jamie Emerson, the brother and sister team of Adrienne and Sean Drolet, and Brian Capps as they crush testpieces new and old. See the contrast these climbers live between day to day life and sending the problems of their dreams.
This film features the most aesthetic bouldering areas in Colorado from Rocky Mountain National Park to Poudre Canyon to new hot spots no one has ever seen.
2 Reviews
Review
Review by: kansasclimber, 2004-04-07
I am not one to rush out and buy every climbing DVD that comes out, but Colorado Day Dream sparked my interest. I am going to Colorado this summer, and I thought it would be a great video to get me motivated, right I was!! This video has the top of the line editing in the world. Unlike many other climbing films, this film concentrates on over 30 prolems, each getting its each own individual attention. This video is one to get you pumped up to go climb.
This film, in my opinion was made to get you sicked to go boulder. It is not like Rampage, where you watch Sharma do some ungodly moves on some blank wall. These are the average (very high average) guys, and gals that live in Colorado, and just love to climb. It make you think "yeah, I could do that", rather than, "Whoa, I WISH I was that good". This film has great soundtrack also. True there may be a little techno in there, but they mixed it up W/ some Jazz, rock, and rap. The group of climbers also throw down hard problems including a V13/14, which Sharma does NOT due in Rampage. If you want to get sicked to go climb, get this video. It's nice to see the average Joe crank hard, just like me and you

Stephen
Review
Review by: bigwallfun, 2003-04-04
I did'nt mean it